Know all about Insulin like Growth Factor-1
The IGF-1 is an abbreviated form of Insulin like growth factor-1. Naturally the IGF is produced in the liver of the body in the pituitary glands.  It is generally responsible for the growth of the cells throughout the body.  For the function of the IGF-1 the growth hormone should be produced in a adequate level by the pituitary gland or should be obtained though nutritional support. In addition to the benefits you should also always be aware of the side effects and the adverse reactions.
Usually the body builders and the athletes look for a faster and effective method for
Muscle development
Increased stamina
Enhanced performance
More endurance
Etc. Hence they prefer IGF-1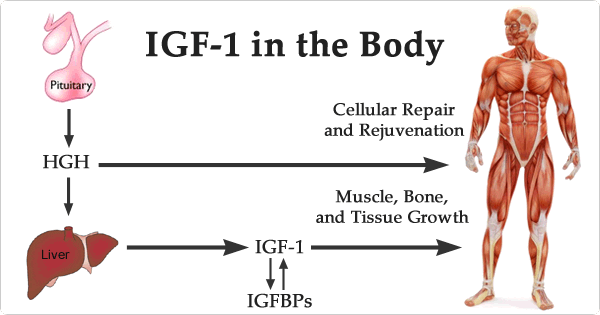 The IGF- 1 can lead to rapid increase in the growth of muscle mass but it does not have any impact on the strength of those muscles. The level of IGF-1 is more during the adolescence age and it gradually decreases when we age. It can be noted due to the increase of fat and decrease of lean muscles mass. The decrease of the IGF-1 may also lead to decreased energy and changes in texture and tone of skin. It is banned for use in many sports organizations and associations.
The IGF-1 when used in form of dietary supplements can promote many healthy body functions such as
Increased protein protection
Enhance muscle growth
Protein cell degradation is reduced
Enhanced physical activity
Etc. To avoid the side effects caused by the supplementary products the strict instructions mentioned on the label of the products must be adhered properly.
The result is only more for the person with growth hormone deficiency. There may not be much of an improvement for persons with adequate levels of growth hormone. When you intake IGF-1 in form of injections or dietary supplements if you have no deficiency of growth hormones it may lead to changes in
Endocrine system
Metabolic system
Musculoskeletal system
Etc.
Side effects and disadvantages of the IGF-1
Muscle pain
Joint pain
Nerve pain
Potential increase of LDL cholesterol ( Low density lipoprotien )
Edema i.e., swelling in the extremities especially in the hands, feet, ankles, etc.
There is also a risk of developing diabetes if you take IGF-1 depending on the dosage and length of period used. The side effects are mostly mild and temporary for many people and for some other people it ranges from mild to severe depending on the dosage and nature of their use particularly when stacked with other anabolic steroids.
The use of HGH, IGH-1 and other anabolic steroids are not advised by the physicians and doctors for the purpose of body building, enhancing athletic performance, weight loss and other similar uses. If you any medical condition necessary precaution should be taken. The effect of the IGF-1 is only temporary and it will start to disappear once you start to discontinue the usage of the drug.